Bikram Yoga
This class is taught by: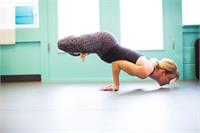 Courtney Woodward, MFA Yoga
Courtney's yogic journey started 17 years ago when she was living in New York City and dancing with Martha Graham Company. In 2003 Courtney received her teaching certification at Bikram Yoga College of India with Bikram Choudhury. Courtney is an accomplished professional modern dancer and yoga instructor: Runner-up European Yoga Champion 2004, FSU women's tennis and FSU dance department yoga instructor. "I am passionate for the challenges I face on and off the mat, and the wisdom to utilize that experience as a teacher."
Bikram Yoga is a series of 26 postures performed in a precise order, in a room heated to 90 degrees. Incorporating strength, balance, and flexibility, Bikram teaches students how each pose stimulates the mind while restoring and shaping the body.